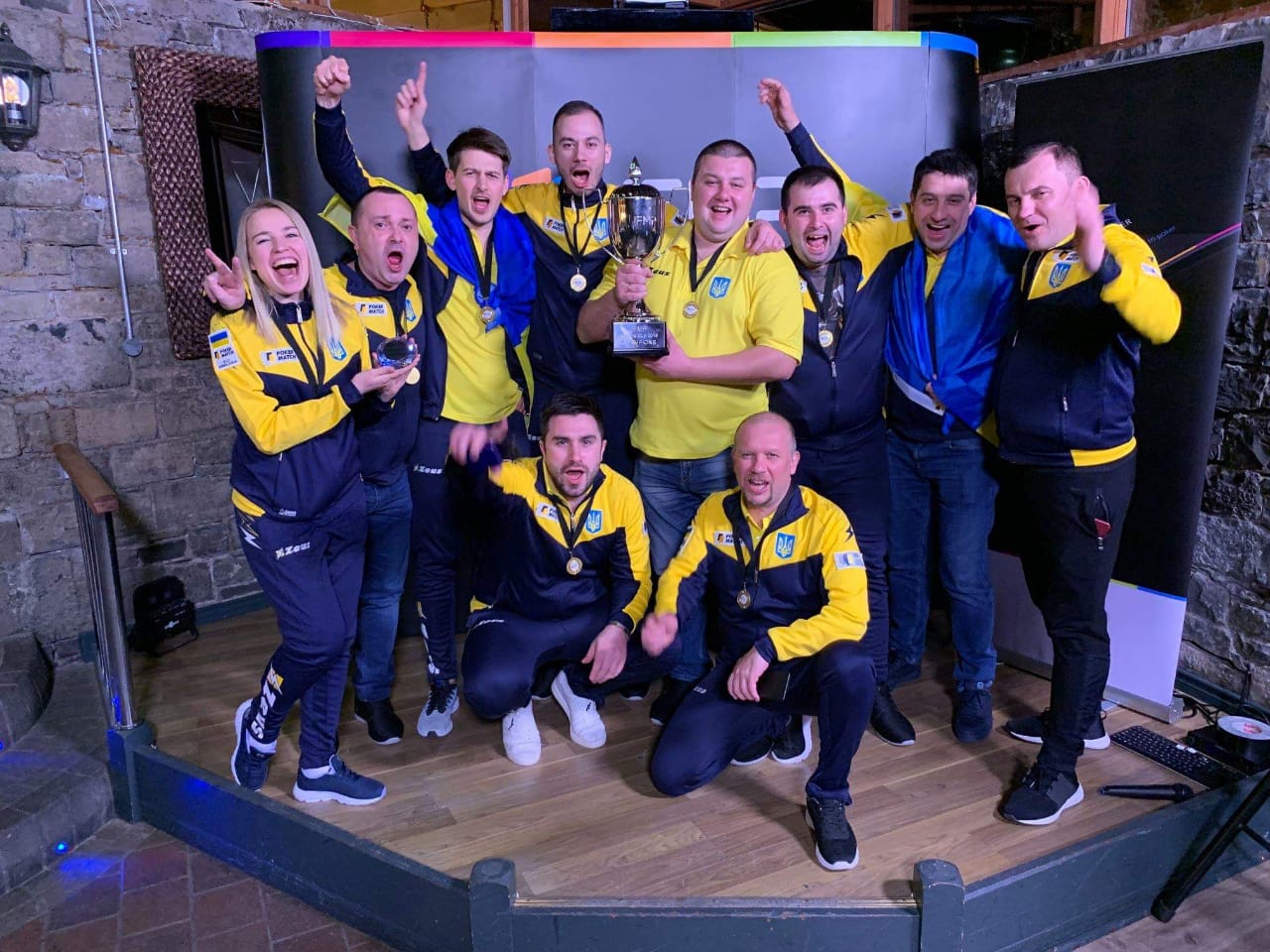 London, 25th March 2019: Tournament debutants Ukraine made an instant impact on the fast-growing sport
of Match Poker when they lifted the coveted IFMP Nations Cup at Boyne Hill House, Meath, near Dublin.
They beat off the challenge of holders and hosts Ireland and other nations including fellow newcomers Chinese
Taipei to win the competition, which is the leading international tournament organised by the International
Federation of Match Poker (IFMP).
And Ukraine's success didn't end with the title itself. Their female player Olga Iermolcheva delivered a series of
outstanding performances to be awarded Player of the Tournament after overtaking Ireland's Andy Black who
won it in 2017.
Match Poker was devised and developed by the International Federation of Match Poker – which holds
Observer Status of the Global Association of International Sports Federations (GAISF) and which has over 62
members federations worldwide – as a team-based mind sport where the element of chance inherent in the
"random draw of cards" has been removed. As a result, it conforms to the GAISF definition of a sport as 'not
relying on any element of luck specifically integrated into the sport.'
IFMP has successfully developed the Match Poker technology including innovative use of smartphones in
game-play and administration, making Match Poker a true 21st century mind sport and an eSport.
Match Poker athletes were subject to anti-doping tests for the first time, reinforcing Match Poker as a sport
and being another major milestone for IFMP.
IFMP President Patrick Nally was delighted with the success of the Nations Cup.
"It was a thrilling tournament played in the best possible spirit and a great way to showcase the skill of our
players and the sheer diversity of the sport of match poker," he said.
"The teams featured men and women who are able to compete as absolute equals. And we proved that age is
no barrier as one team featured an 82 year-old player who was able to give as good as he got in every contest,"
he explained.
"The Nations Cup shows how fast match poker is gaining traction around the world. Poker is the world's most
popular card sport and the match poker variant cuts through the cultural barriers and negative perceptions
associated with the root game to enable everybody to compete in competitions which reward skill and not
luck," he said.
"The competition also allowed us to bed in some new technology which successfully passed its field trials. That
means we can build with confidence for the future and will be working on confirming our major events
calendar for the year."
https://matchpokerfed.org/wp-content/uploads/2019/03/Olga.jpg
1280
959
Varun Goenka
https://matchpokerfed.org/wp-content/uploads/2021/02/ifmp-2021-header-logo.png
Varun Goenka
2019-03-26 10:27:25
2019-04-30 14:24:21
DEBUTANTS UKRAINE LIFT IFMP NATIONS CUP