The Croatian National Match Poker squad, represented by the Croatian Poker Players Association, is as follows: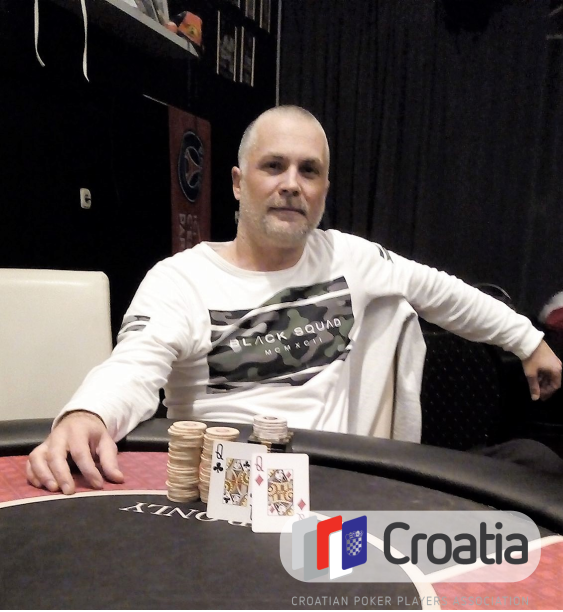 Team Member – Goran Vejnović
Age: 48
Profession: Professional Poker Player
Bio: He is playing poker since his high school and has a very good regional result. One of his best results where he had prize pool rewards were Gorica (Slovenia) 1,000,000 E tournament, Split (Croatia) 200,000 E tournament and his latest and favourite tournament in Barcelona (Spain). He is also a huge fan of a local football club, Hajduk Split.
Team Member – Hana Šoljan
Age: 36
Profession: Founder of Croatia Women's Poker team
Bio: She was among the first sponsored players in Croatia. For years she has been promoting poker as a sport in her country and other countries. She is the founder of the first women's poker team in Croatia. She has always encouraged women to play poker and and has won several international ladies tournaments herself. The topic of her thesis at the Faculty of Economics was "Analysis of the Applicability of Poker Skills in Business Situations". She believes that the skill of playing poker helps in business, but also in life. Today she works as a copywriter and designs commercials and also works in one of the largest retail companies in Croatia.
Team Member – Marko Bojanović
Age: 32
Profession: CEO of Canetti Porte company
Bio: Ex-dealer who decided to stop creating luck for other players, but for himself instead. Entrepreneur with MBA in project management who likes to take risk, both in poker and private life.
Team Member – Zdravko Rajić
Age: 56
Profession: Private family hotel owner
Bio: Zdravko is a passionate poker lover and player. He is been in a business for a long time and lately he is having most luck in Czech Republic and Germany. He also likes water skiing.
Team Member – Željka Kvastek
Age: 42
Profession: Financial Accountant
Bio: Passionate poker player whose poker skills are more than pure numbers. Players don't take her easily since they know their chips might end on the wrong side of their balance sheet. She plays poker for more than a decade now.
Team Member – Ivan Bojanović
Age: 57
Profession: President of the Croatian Poker Players Association
Bio: He has been in the poker business for more than 20 years. He organised several international poker tournaments in Croatia and is determined to present poker as a mind sport and game of skill, not as a "game of luck".
Team Member – Visnja Luetic
Age: 45
Profession: Model and photographer
Bio: Most versatile player in a team. She is a Poker player, Artist, Dreamer, professional Fitness model and a photographer. She is also a traveler and dog lover.
Team Member – Petar Sosic
Age: 57
Profession: Restaurants owner
Bio: Owner of several of the most professional restaurants on the Adriatic coast who likes life and enjoys playing poker. He follows poker actively and promote it as a sport. He is also a humanitarian.
https://matchpokerfed.org/wp-content/uploads/2021/06/Croatia-2x.png
573
2035
Varun Goenka
https://matchpokerfed.org/wp-content/uploads/2021/02/ifmp-2021-header-logo.png
Varun Goenka
2021-06-15 15:36:49
2021-06-18 11:46:58
Team Croatia make their Match Poker Debut this Saturday!